The definition of "best" will vary from person to person, depending on one's priorities. For me, privacy, peace and quiet, natural beauty and the opportunity to find solitude are what make a campground great. For you, the list may include convenience (as in a nearby store), security (as in a nearby ranger station), or lascivious entertainment (as in a nearby strip club). I'm sorry to say to the latter of these groups that you'll be out of luck in Yosemite, though if you visit the pools at the bases of the waterfalls you never know what you'll see.
Many of Yosemite's campgrounds are clustered in the valley (the so-called "car campgrounds": Upper Pines, Lower Pines, North Pines, Camp 4, Sunnyside, Lower River, and Upper River; also in the valley is Camp Curry, which has tent-cabins so I don't really consider it "camping"), and while they are, for the most part, perfect for RVs, I would never suggest that you tent camp there. The valley is stunningly beautiful, but in the summer, it gets very hot during the day (well over 90 degrees), the valley can get surprisingly smoggy and especially smoky should there be a fire (control burns are common), the campsites are mostly small and too exposed and they all lay too near the roads winding throughout the valley. Sure, the valley sites are close to a grocery store and hot showers, but who needs to be clean? And if you get hungry, just do like Euell Gibbons and eat a pine tree.
The valley's "car campgrounds" require camp reservations from March 15 through November; Hodgdon Meadows, half of Crane Flat, Tuolumne Meadows and Wawona campsites must be reserved from summer through fall.
 Bridalveil Creek Campground is my favorite campground in the High Sierras for many reasons, not the least of which is that it has many large campsites, some of which afford a respectable degree of privacy. Pets are permitted in the first of three loops only, and in every loop the best campsites are on the outside of the loop; those in the middle are exposed, but near the restrooms.
Beyond the last loop, Bridalveil Creek meanders through a thick and at times impassable forest.  A road leading in this direction will take you to the community campfire area, where rangers tell of local mythology, history and tall tales; they also will get you to sing silly songs, whether you want to or not.
Located on Glacier Point Road—about halfway between the overlook of the same name towering 3,000 feet above Camp Curry in the valley and Badger Pass (Yosemite's ski area)—Bridalveil Creek Campground lays at an altitude of about 7,200 feet, which is pretty high if you've never experienced it.  Summer days are usually warm and not hot, but the nights get frigid, with temperatures often falling below freezing.  Be prepared:  the restrooms have NO HOT WATER, even in the sinks (there are no gas lines in the campground and they don't use propane for heating water).  The campground has no showers; to bathe, you'll have to drive 45 minutes down to the valley.  If you're thinking about bathing in the creek or even the brook winding through the meadow beside the first loop, think again.  First, if you use anything but an environmentally friendly soap, you're apt to be arrested.  Secondly, the water temperature is in the 30s or 40s Fahrenheit, which is certainly stimulating but not great for bathing.
The bathroom doors swing outward; be ready for this.  There's a very good reason they are designed this way, which makes perfect sense if you imagine a bear wandering into a restroom in the middle of the night and being trapped because the door opened inward.  Now imagine that you're an unsuspecting camper who feels a need to pee at two-AM.  Now there's a confrontation you can miss!
For the security minded and/or paranoid, be advised: the nearest ranger station to Bridalveil Creek Campground is about 30 minutes away, up at Glacier Point.
The nearest gas station or store is in the valley, so plan ahead and be prepared.  Because of the high altitude, the campground often doesn't open until June or July and may close as early as mid-September or whenever the first snow comes.  Despite its remoteness and lack of amenities, Bridalveil Creek Campground fills up quickly due to its incredible beauty.  Your best bet on finding an available campsite is to show up early Sunday morning and look for people packing to leave; ask if they're abandoning the site and if they are, claim it for yourself by going to the Pay Post near the phone booth located on the road leading in, fill out the payment envelope and pay for the site; then clip the tag to the campsite's number post and it's yours.
 Crane Flat Campground is a little under four miles from one of only three groves of Giant Sequoia in Yosemite (the Merced Grove) and it isn't far from the valley (about a 20 minute drive).  Also, a ranger station lies just outside the campground and a combination general store/gas station rests beside the ranger station.  Other than that, Crane Flat has few redeeming qualities.  The campsites are exposed, many have little tree cover and neighbors on all sides of you will make you feel like a fish in a tiny aquarium.  The sites around the outer side of the ring are more private, of course, though few can compare to those in Bridalveil Creek Campground.  This is a good place to camp if you are staying in a motor home and plan to spend little or no time in the campsite during the day. And as always (and this applies to all campgrounds), be sure to use the bear boxes to store anything that has any kind of scent, no matter how subtle, including soaps and lotions. Bears will eat just about anything.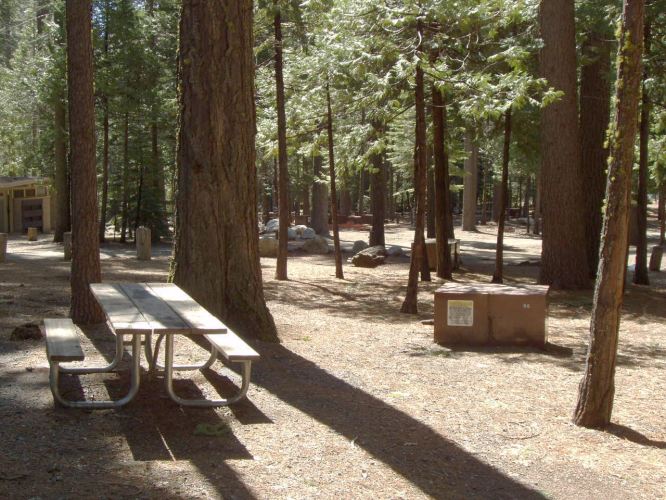 Hodgdon Meadows Campground is even more exposed, even less private and right down the road from Crane Flat. Its two selling points are that it's reasonably close to the valley and located just inside the park's North Entrance.
 White Wolf Campground on Tioga Road, is possibly the prettiest of all the easy-access campgrounds in Yosemite. At over 8,000 foot elevation, it may be open only for a few months, so plan accordingly and be prepared for very cold nights. White Wolf is among the most popular places to camp; and because it contains a limited number of campsites, it's also one of the hardest places to find a space. While quite distant from the valley, White Wolf affords a reasonably short drive to Tenaya Lake (which has its own campground that is great for RVs but not so great for tents; and also has a picnic area), where at Olmstead Point you can take in a view of Half Dome's backside (which isn't as dirty as it sounds) and if you're lucky spot a marmot or two playing hide and seek in the sheets of slate rock. Farther up Tioga Road, you will encounter Tuolumne Meadows (which also has a campground and general store), the largest alpine meadow on Earth surrounded by spectacular domes and other granite formations. Other campgrounds in this vicinity include Tamarack Flat, Yosemite Creek and Porcupine Flat Campgrounds; each of these is smaller than White Wolf, and that's about all I can say about them, as I have never camped in any of them.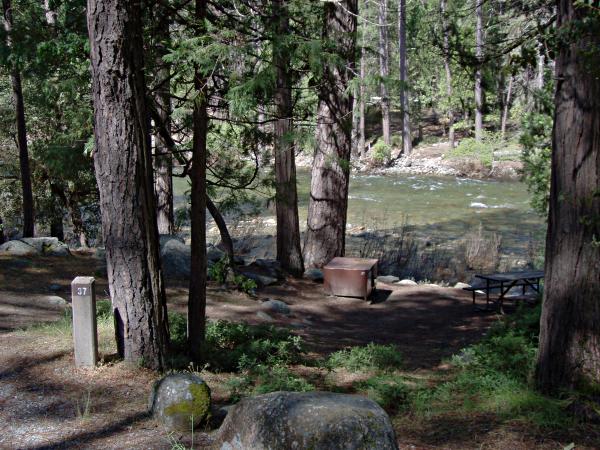 Wawona Campground is—other than possibly Tuolumne Campground (where, at over 9,000 foot elevation you had better not walk fast or you may pass out)—the farthest easy-access campground from the valley. Fortunately, it has a whole town for support, including a sizable grocery store, gas station, the Pioneer History Center, nearby Mariposa Grove (the largest and most famous of Yosemite's Giant Sequoia groves) and the only golf course I know of within an American National Park (it's only 9 holes, but how can you be picky when playing golf in Yosemite?). The campground lays beside the South Fork of the Merced River, offering swimming in icy water if you have a high tolerance for the cold and about the worst fishing in Yosemite (trout are smarter than you think); however, it also lays beside Hwy 41, one of the main arteries into the park, so expect to hear plenty of traffic well into the night if you stay here. For quiet seclusion, Bridalveil Campground remains your best bet.