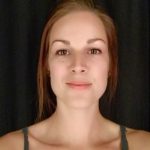 Linda Van Lieshout
Location: Barcelona
Languages: Dutch, English, German
Hard working, a bit crazy and full of contradictions!

Jack-of-all-trades with some good technical skills.✪ Owner at Mint Multimedia✪ Freelancer✪ Creative✪ Travel freak✪ Adventurer⮛ My contact details can be found below ⮛☎ 06 – 50466933✉ linda.van.lieshout@hotmail.com...
more Jack-of-all-trades with some good technical skills.✪ Owner at Mint Multimedia✪ Freelancer✪ Creative✪ Travel freak✪ Adventurer⮛ My contact details can be found below ⮛☎ 06 – 50466933✉ linda.van.lieshout@hotmail.com🌐 www.mintmultimedia.nl
less
Expertise
I've had my own nailsalon for over 6 years. I was specialized in applying artificial nails (espcially fake nails that look real and natural), giving manicures and taking care of the skin of the hands. I specialized in nailbiters aswell. (To get them to stop biting nails)
Restaurative/decorative painter
I have my degree in restaurative and decoratie painting. I worked at the Rijksmuseum in Amsterdam (The Netherlands) for 4 months. There I restaurated the decorative paintwork that originally was applied on the walls and ceiling, but got lost in the 60's due to overpainting.
I'm having my own company in webdesign for 2 years now. I specialize in building complete websites from scratch.
Work
The Nailcode
Uden
April 1, 2010 - April 1, 2016
• Taking care of hands and nails through manicures • Placing artificial nails • Financial administration • Managing the company's website and social media • Product procurement • Promotional activities
Mint
Veghel/Barcelona
June 1, 2017 - January 5, 2019
As the owner of Mint Multimedia I offer a complete range of services. From web design to content writing, and everything in between. Your wish is my command!   A good customer satisfaction is of paramount importance for me. You've probably heared people say "The sky is the limit." My addition to this? "𝑳𝒊𝒎𝒊𝒕𝒔 𝒂𝒓𝒆 𝒎𝒆𝒂𝒏𝒕 𝒕𝒐 𝒃𝒆 𝒃𝒓𝒐𝒌𝒆𝒏!"
Education